Debit Cards
The People's Visa / Master Debit Card is available to any People's Bank customer with a Savings, Current, NRFC, Individual/Joint or Proprietorship Account. If you have any of these accounts, you are eligible for a Debit Card which can be used locally and internationally at merchants that accept Visa / Master cards
Card Type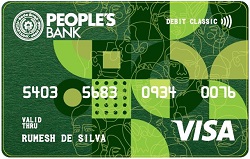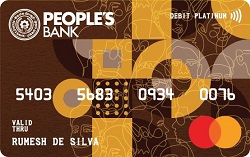 ---
For Whom
People's Bank customers with either a Savings, Current, NRFC, Individual/Joint or Proprietorship Account
Foreigners with a Valid Tourist/ Visit Visa document can apply for domestic use only debit card for their Personnel Foreign Currency Account ( PFA)
---
Features

Withdraw cash 365 days a year, 24 hours a day with over a million ATM's worldwide.

Worldwide acceptance at over 20 million merchant outlets.

100% Security when you shop online with Verified by VISA/ MasterCard SecureCode services.

Free SMS alerts after every transaction.

Enjoy Special Discounts from selected merchants island-wide.
---
Daily Usage Limits :
Local / Overseas Transactions :

ATM cash withdrawals limit - LKR 200,000/-
Point Of sales( POS) limit - LKR 300,000/-




Note: For Foreign Currency Accounts Daily ATM limit LKR 200,000/- & POS / E-commerce limit LKR 300,000/- will be applicable.
---
Conditions for Foreign Transactions
Cross Border Transaction Mark-up fee is 5%

Exchange rate applicable for foreign currency transactions on Debit Cards.
Foreign currency transactions will be converted using exchange rates determined by the payment scheme.

For further details, contact 1961
---
---
Offers
find the offer that best suits your needs.
---
People's LankaPay Debit/Transit Card