Credit Cards
Discover the world of privileges with People's Credit cards and benefit from exclusive offers that save your money and enhance your life experience.
Choose from People's Bank's list of credit cards and apply for a credit card that is suited best for your needs.
For Whom
Sri Lankan Citizens between the ages of 18- 65
---
Required Documents
If Salaried;
Duly Completed Credit Card Application
Copy of valid NIC / Driving License/ Passport
Copy of Service ID Card/ Service Confirmation Letter Issued by the employer
Certified last two months' salary slips
Billing proof documents when required
If Self-employed / Business:
Duly Completed Credit Card Application
Copy of valid NIC / Driving License/ Passport
Copy of Business Registration
Income Proof Documents (Not Applicable for existing People's Bank Customers)
Billing proof documents when required
---
Key Features & Benefits
Great Deals & Offers throughout the year
Instalment Payment Plans
Balance Transfer facility
Free Overseas Travel Insurance
Supplementary cards for your family members
Interest-free credit period of up to 51 days for all your purchases
Multiple credit card bill repayment options through People's Pay mobile banking App, Internet Banking, Cash Deposit Machines, Standing Order & Branch Network
Tap & Go (NFC) facility for more convenient and safer transactions
3D secure service offers added security to your credit card when shopping online
SMS notification for every transaction made
FREE e- statement Service
FREE Missed Call Balance service via 0716490400
---
Card Types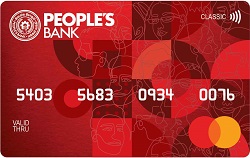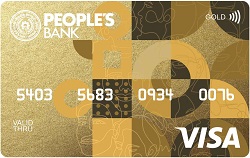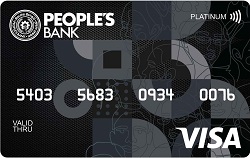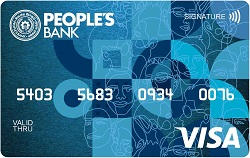 ---
Transaction Value

Above LKR 25,000/-

Above LKR 100,000/-

Time Frame (Months)

6M

12M

18M

24M

Up front Handling Fee

8.00%

15.00%

22.00%

30.00%
The eligible transaction amount to be converted for ESP

minimum transaction value is LKR 25,000/-
maximum transaction value is LKR 1.5 Million.

Transaction amount could be converted up to 100% of the Permanent Credit Limit.
A transaction can only be converted to ESP facility within 30 days from the date of the transaction.
Transactions must not be combined when converting to instalments.
Only the full transaction value can be converted under the ESP facility.
There is no limit for number of active ESP's (excluding 0% plans) that can co-exist on a particular card account.
This is only applicable for transactions processed via local merchants. (Merchant Country must be Sri Lanka & the Transaction currency must be LKR)
Not applicable for Cash Advances, Gambling Payments & Payments made to Financial Institutes.
All the other prevailing terms and conditions on converting a purchase transaction to an ESP will be applicable.
Conditions for Foreign Transactions
Cross Border Transaction Mark-up fee is 5%
For further details, contact 1961
Note

Exchange rate applicable for foreign currency transactions on Credit Cards.
Foreign currency transactions will be converted using exchange rates determined by the payment scheme.
Further, an additional amount of 5% will be added to the rate, in order to reflect the current local exchange rates.
---
Offers
find the offer that best suits your needs.